Nature generously shares its treasures with us, all we need to do is to use them wisely. The researchers from the Institute of Microbiology and Biotechnology of the Academy of Sciences of the Republic of Moldova have succeeded in it. The result is a unique biological product BioR made of spirulina. The technologists at the Viorica Factory have developed the Spirulina product line for the comprehensive face, body and hair care.
What is great about Spirulina collection? First and foremost, its diversity. The line combines face and body firming, anti-ageing, hair smoothing and regeneration, intimate hygiene and a plethora of other products. All types of hair and skin are considered. It is indeed comprehensive care, with every detail carefully considered. All the products have long shelf lives and are produced using eco-firiendly technologies with no animal testing.
The main asset of the Spirulina product line is its unique component BioR. It is created based on microalga spirulina, which is grown in the highly controlled environment without negative human impact, toxins and other harmful factors. The healing properties of this alga are impressive. It contains more than 50 biologically active substances, including calcium, magnesium, zinc, phosphorus, selenium, copper and a high amount of protein. It is more than in salmon or quail eggs.
Remarkably rich chemical composition endows spirulina with almost magical properties. It has a truly invigorating effect on our body:
· heals and regenerates the skin;
· reduces the appearance of acne;
· strengthens the hair texture;
· protects from oxidants;
· improves immunity.
Design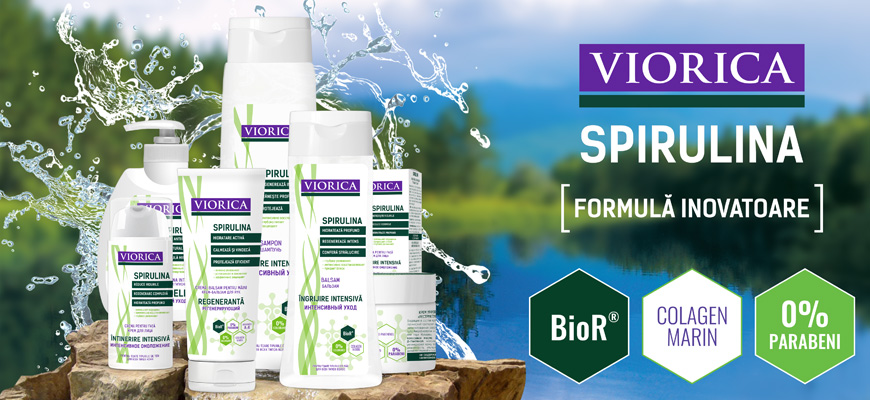 BioR not only contains all the valuable micro elements of spirulina including immunoactive amino acids, sulfated polysaccharides and fatty acids. It also drastically increases their effect. The reason is that the product is 100% absorbed by the body and this result is dozens of times better than of the spirulina essence.
It means that the products from the Viorica Spirulina collection not just take care of your hair and skin. They have pronounced regenerative properties. It is especially valuable when ecology is far from ideal and our body is exposed to many stress factors.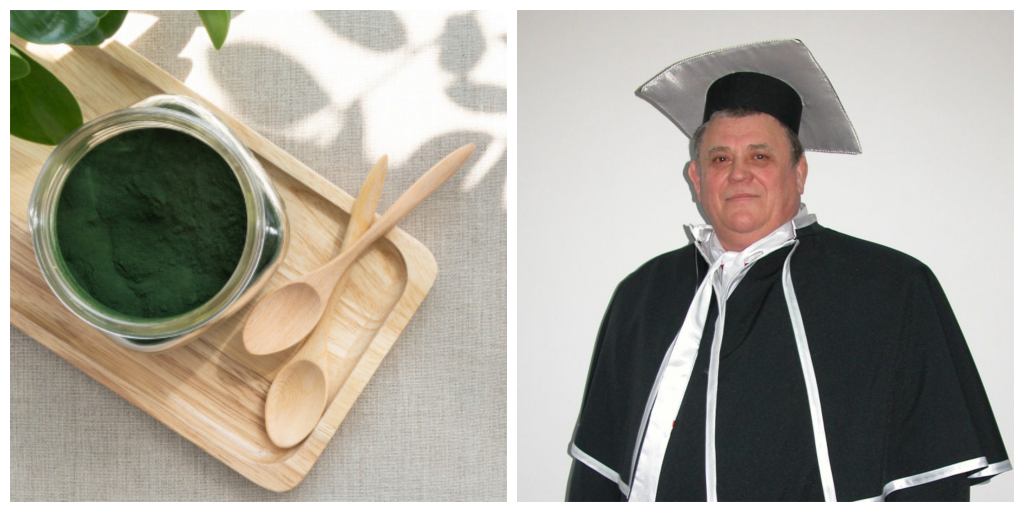 According to BioR creators' team leader academician Valery Rudic, the product impacts the body at a cellular level, preserving the cell, protecting it from ageing and recovering it from any damaging effect. This makes the product a perfect supplement to treating various conditions. Moreover, it is a valuable component for cosmetic products and here Viorica Cosmetic is in a unique position as it possesses exclusive rights to use BioR in the cosmetic production.
Clinical trials of BioR have shown impressive results. Now you can utilize the healing power of this component due to Viorica Spirulina Cosmetic. You can buy all the products of the series at official Viorica stores or order them online.